One of the most ambitions items at Maker Faire Africa this year in Johannesburg, South Africa is Samuel Ngobeni's "art car". He's a designer from Germinston, who has spent the last three years building his ANIMAL car, from the ground up, that means the frame and all. It's a work in progress, though starting in 2011, it's not quite done yet.
The first thing you'll notice about it is that it's completely covered in denim. When I asked him why, he said, "because it's tough and can withstand a lot of things like the sun and rain, like the cowboys, that's why I chose it."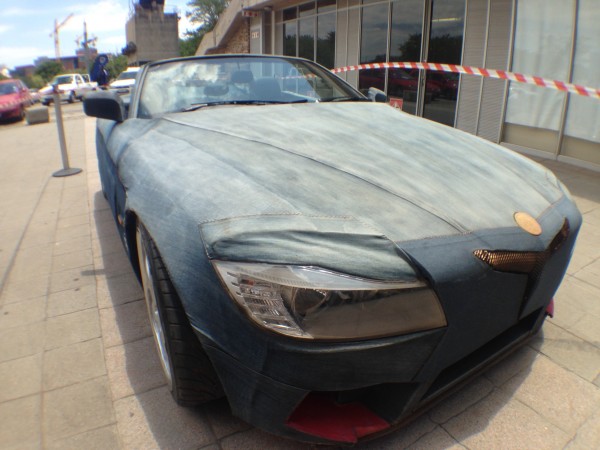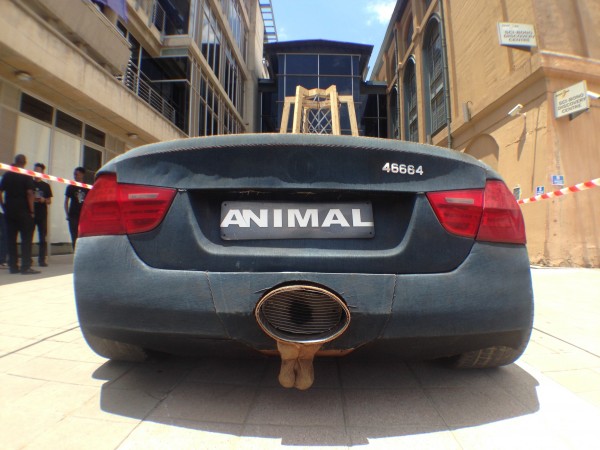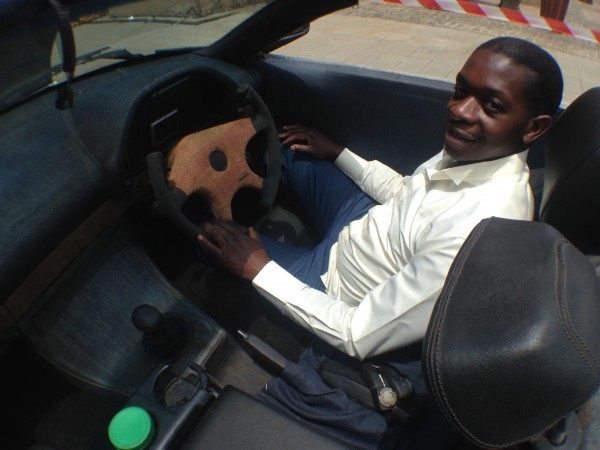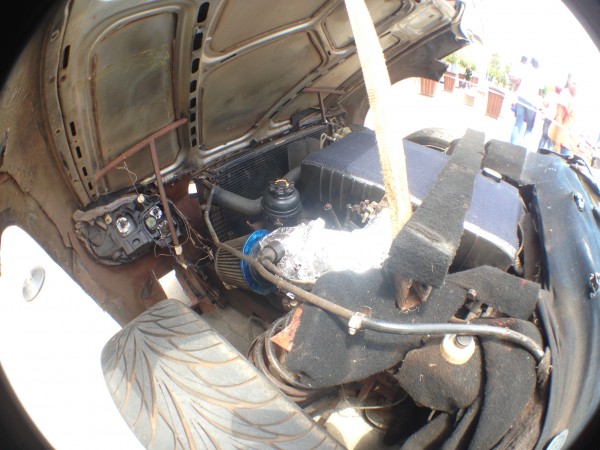 At first glance, from afar, it looks a bit like a BMW shape, but when you get close you can tell just how much customization and work went into it. Then, when he opens the hood and shows you underneath, you can see that he actually hand-built the whole thing with steel piping and sheet metal, by hand.
It's running a 3 liter, straight 6 cylinder engine, has suicide doors and leather seats.
Samuel's next big idea is to find a v8 or v12 engine, slap that inside a custom built 6-wheel vehicle (4 in front, 2 in back) and then skin it all in croc-skin. His denim ANIMAL is already pretty slick, so his next car can only get better, and it sounds like it'll be a lot more powerful and meaner too!

How You Can Help
It's difficult for designers like Samuel to get far on their own. He's looking for someone who can take him to the next level. We're setting up an email address for him now, but you can reach him on WhatsApp at 0822 110122 for now.
[from Afrigadget] Amy Smith (of MIT's IDDS) somehow got a hold of a mic and madhouse has now ensued! Everyone has been split up by their birth month into groups. They are given 5 water bags (sachets) and told to solve the world's greatest problems. 30 minutes later we get…
January: The Sachet Kebab
Decreasing litter and polution. People can collect water sachets off the ground easily with a pole and spiked end. It can be placed along the roads, and a lot of trash can just be spiked on the tip of it.
February: Hydro Electric
Generate electricity by using the bags to create small turbines.
March: Light absorbent and heat absorbent bags
They also had a crazy idea of drinking the water, peeing in the bag and selling that to farmers for fertilizer… to much laughter…
April: Potting and a Wallet
Drink the water and make it empty. Cut the top off and put in soil and grow small plants. Take another bag and put a small hole in it for drip irrigation. Second idea: use the bag to put your money in for when it rains.
Read more at Afrigadget.com. Follow updates on Twitter.
Maker Faire Africa is an event happening next summer in Ghana. It needs a logo though, and for the designers who read this, it's your chance to win a quick $250. Jump on over to THE CONTEST to get started.
(Not a designer? Pass this on to someone who is, and feel free to leave your comments on which designs you like/don't like.)
What is Maker Faire Africa?
As Emeka puts it:
The aim of a Maker Faire-like event is to create a space on the continent where Afrigadget-type innovations, inventions and initiatives can be sought, identified, brought to life, supported, amplified, propagated, etc. Maker Faire Africa asks the question, "What happens when you put the drivers of ingenious concepts from Mali with those from Ghana and Kenya, and add resources to the mix?"
This logo will be used on the redesigned website, print materials and t-shirts.
How it Works
A couple months back I tested out 99designs.com for logo creation, and was incredibly impressed with how easy it was to get going and for designers to take part in quick project work. The contest is open for 7 days (Dec 25th – Christmas), and anyone can go register as a designer to submit an entry.
Once you've registered and submitted a design, we'll be leaving feedback on what direction to take it, and we'll rate them using their 5-star system. You can submit as many entries as you like. Make sure you read the creative brief before you go too far. We realize that one of the main problems with any contest like this is Africa is payment to the winner. We'll be creative in making sure that if the winner does come from anywhere in Africa, you'll get paid.
Who is behind it?
The organizing team is made up of Emeka (Timbuktu Chronicles), Mark (Ned.com), Amy Smith (MIT IDDS), Lars (MIT), Nii (Nubian Cheetah), Erik (AfriGadget), and Juliana (Afromusing). It is in the very early stages of organization, and we've each contributed some money to get the logo created.
O'Reilly, along with the guys at Maker Faire have given us their blessing to use the name.