One of the most ambitions items at Maker Faire Africa this year in Johannesburg, South Africa is Samuel Ngobeni's "art car". He's a designer from Germinston, who has spent the last three years building his ANIMAL car, from the ground up, that means the frame and all. It's a work in progress, though starting in 2011, it's not quite done yet.
The first thing you'll notice about it is that it's completely covered in denim. When I asked him why, he said, "because it's tough and can withstand a lot of things like the sun and rain, like the cowboys, that's why I chose it."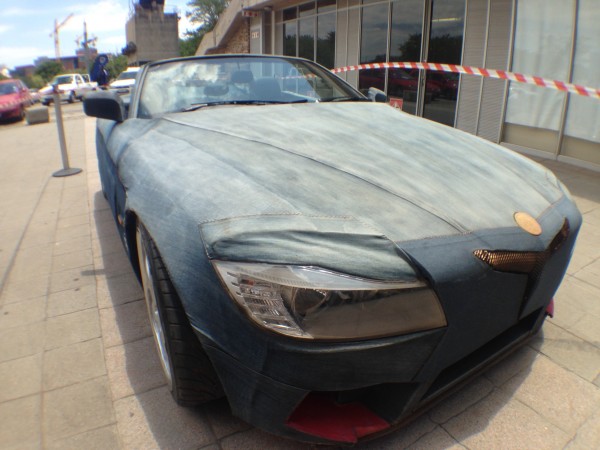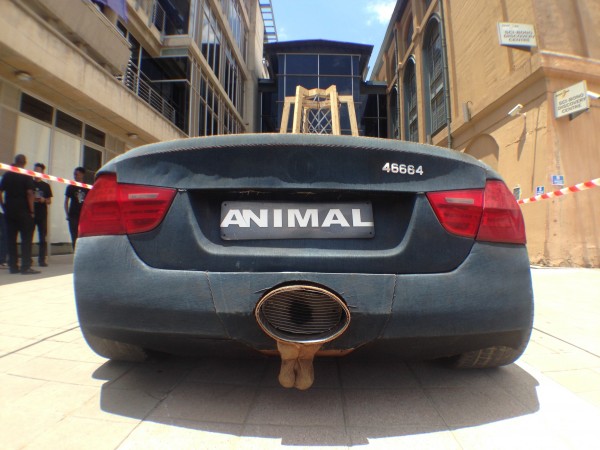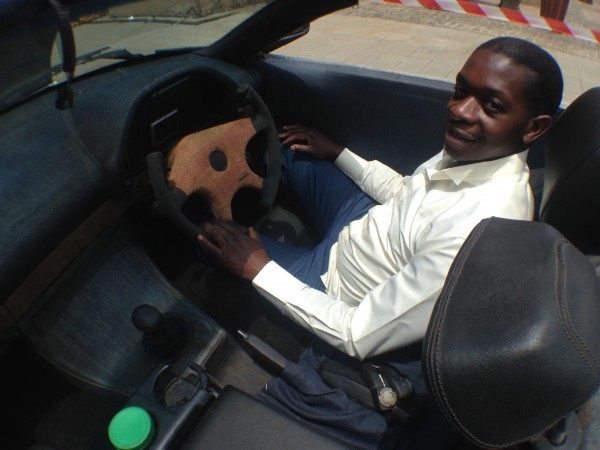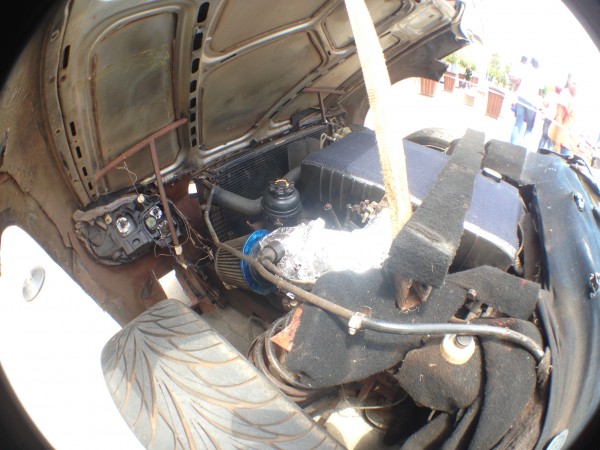 At first glance, from afar, it looks a bit like a BMW shape, but when you get close you can tell just how much customization and work went into it. Then, when he opens the hood and shows you underneath, you can see that he actually hand-built the whole thing with steel piping and sheet metal, by hand.
It's running a 3 liter, straight 6 cylinder engine, has suicide doors and leather seats.
Samuel's next big idea is to find a v8 or v12 engine, slap that inside a custom built 6-wheel vehicle (4 in front, 2 in back) and then skin it all in croc-skin. His denim ANIMAL is already pretty slick, so his next car can only get better, and it sounds like it'll be a lot more powerful and meaner too!

How You Can Help
It's difficult for designers like Samuel to get far on their own. He's looking for someone who can take him to the next level. We're setting up an email address for him now, but you can reach him on WhatsApp at 0822 110122 for now.
This excellent Maker Faire Africa video compilation was created by the good folks at AfricaNews.
All the fun of the technology faire – The Gaurdian
BBC Digital Planet podcast interview (starts around minute 13:00)
Recap of Maker Faire Africa 2009 – ICT4D.at
Maker Faire Africa '09 thrills – AfricaNews
Maker Faire Africa update – MAKE Magazine
Maker Faire Africa showcases ingenuity – Crossing the Streams blog
Interview with Emer Beamer and Emeka Okafor of Maker Faire team
(A review, overview and email from Kwamena Appiah-Kubi, the Mozilla team lead for Maker Faire Africa)
Maker Faire Africa was interesting and exciting. My weekend couldn't have been better spent. I met a lot of like minded people and and saw a lot of interesting things made locally I had never heard of. I also got the opportunity to met people I had only heard or read about like Henry Barnor and Erik Hersman, it was wonderful meeting them and all the other guys.
The following is a recap the 3 days event.
MFA day 1
Day 1 was launch of Maker Faire Africa, with a series of talks about the purpose and inspiration behind the Faire. Some key makers were introduced followed by a number of talk sessions by the makers. I was really inspired by William Kamkwamba session to be determined and self-motivated. Every maker that registered got a copy of Make magazine.
MFA day 2
Day 2 commenced exhibitions. MFA hosted several makers from windmill builders to cycle powered saws as well as guys from the tech industry such as low powered computer manufactures and crowdsourcing agencies. Mozilla's desk attracted a lot of participants, from fans to swag seekers. Henry Addo (ushahidi.com), Miquel (maneno.org) and myself collaborated in a workshop (turned discussion) about localization. We discussed issues hindering localization efforts in Africa, and what policies are and need to be put in place to promote localization. It was an eye opener, hearing the participants' concerns and sharing ideas. We shared packaged Mozilla swag after the discussion, it included a t-shirt, wrist bands, buttons and stickers.
The second workshop (also turned discussion) was lead by Erik Hersman who launched into a discussion about what he saw as a lack of communication and cohesion within the Ghanaian programming community (original topic was mapping on mobiles and web).
I had 2 guys man the stand, 2 interact with makers and participants and myself and another attend the workshop.
MFA day 3
The third day started slow considering it was a Sunday. The program line up had to be rescheduled. There were a number of simultaneous workshops of which we attended 2; mobile applications development by Henry Addo, and building SMS applications web development for low bandwidth regions by Miquel, Brian Herbert (Esoko) and Wayan Vota (Inveneo) .
Participants who expressed interest to be part of the Mozilla community had their contact taken, I will get back to them to find their interests then move them on from there. To round up the event there was a panel discussion with MFA organizers to evaluate the progress of the event and the future of the faire.
Maker Faire Africa is scheduled for Kenya next year, date and time will be communicated later. Awards were given to makers who's exhibits were considered to be true representation of what maker faire ought to be, the first going to three guys from Accra Polytechnic for building an FM radio transmitter. I handed over the table cloth to Henry Barnor at the close of the program.
It was indeed interesting an weekend. My team and i are grateful to have such an opportunity to be part of the program representing Mozilla, thanks a million!
Kwamena Appiah-Kubi
KNUST
College of Science
Department of Computer Science
Computer Science 4
Kumasi – Ghana
There's are some great pictures put up by Miquel of Maneno about Afrobotics, the initiative that was launched at Maker Faire Africa by a number of Ghanian engineers, business people and programmers.
Afrobotics goal:
"inspire African university students to be science, engineering, and technology leaders, by enabling them in innovative team-based competitions that build science, engineering and technology skills, that inspire entrepreneurial risk-taking, and that foster well-rounded life capabilities including self-confidence, communication, and leadership"
If you're looking for any pictures of Maker Faire Africa, we have a Flickr group that has pictures. Keep updated on the newest images from the event, where a number of us are updating it multiple times throughout the day.